Managed Print Services Ireland
Managed Print Services Savings
Start Simplifying Your Print Management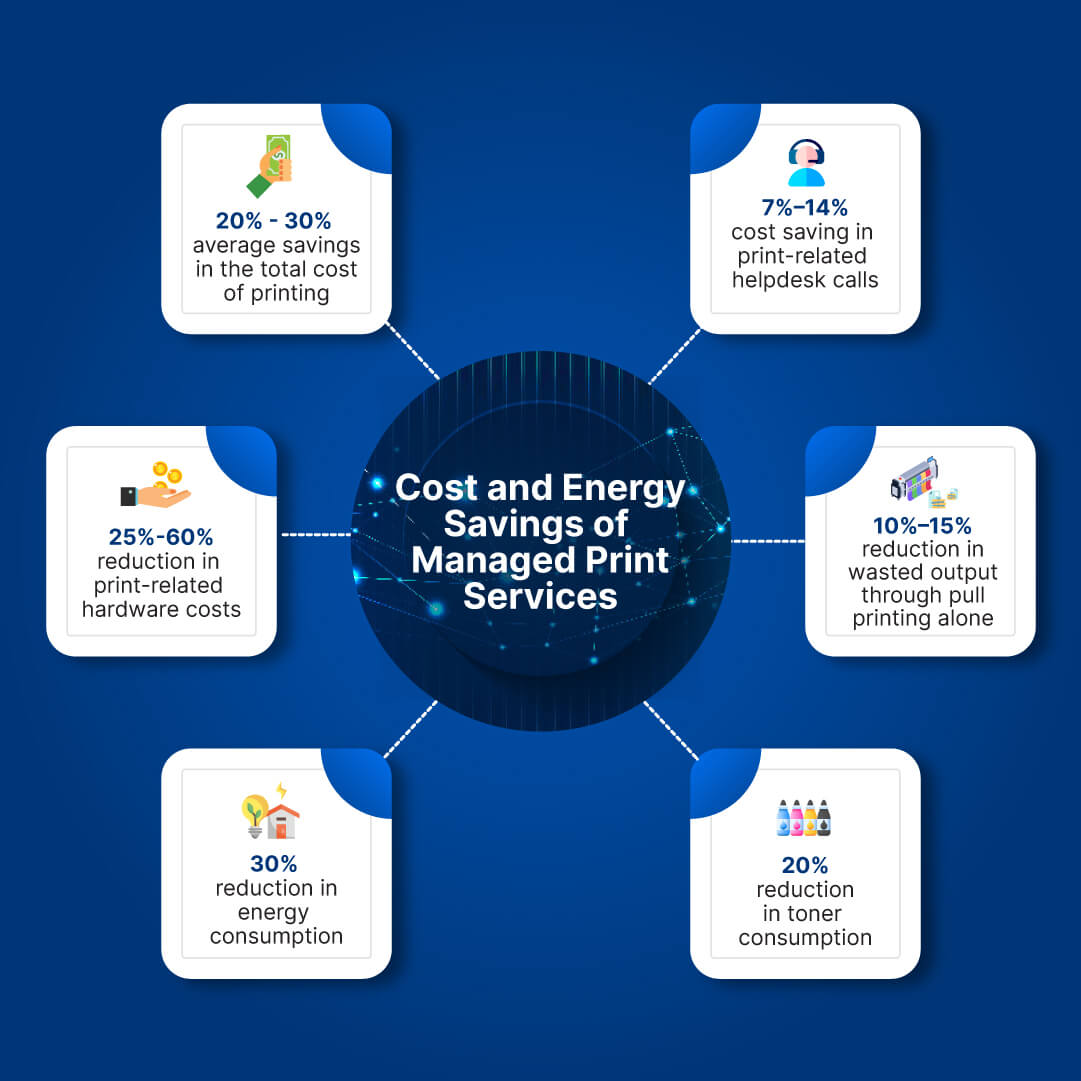 The benefits of Managed Print Services
Tailored print solutions all across Ireland
Specify desired printer functions and get them delivered.
Design and save custom print configurations.
Customize your software suite for optimal performance.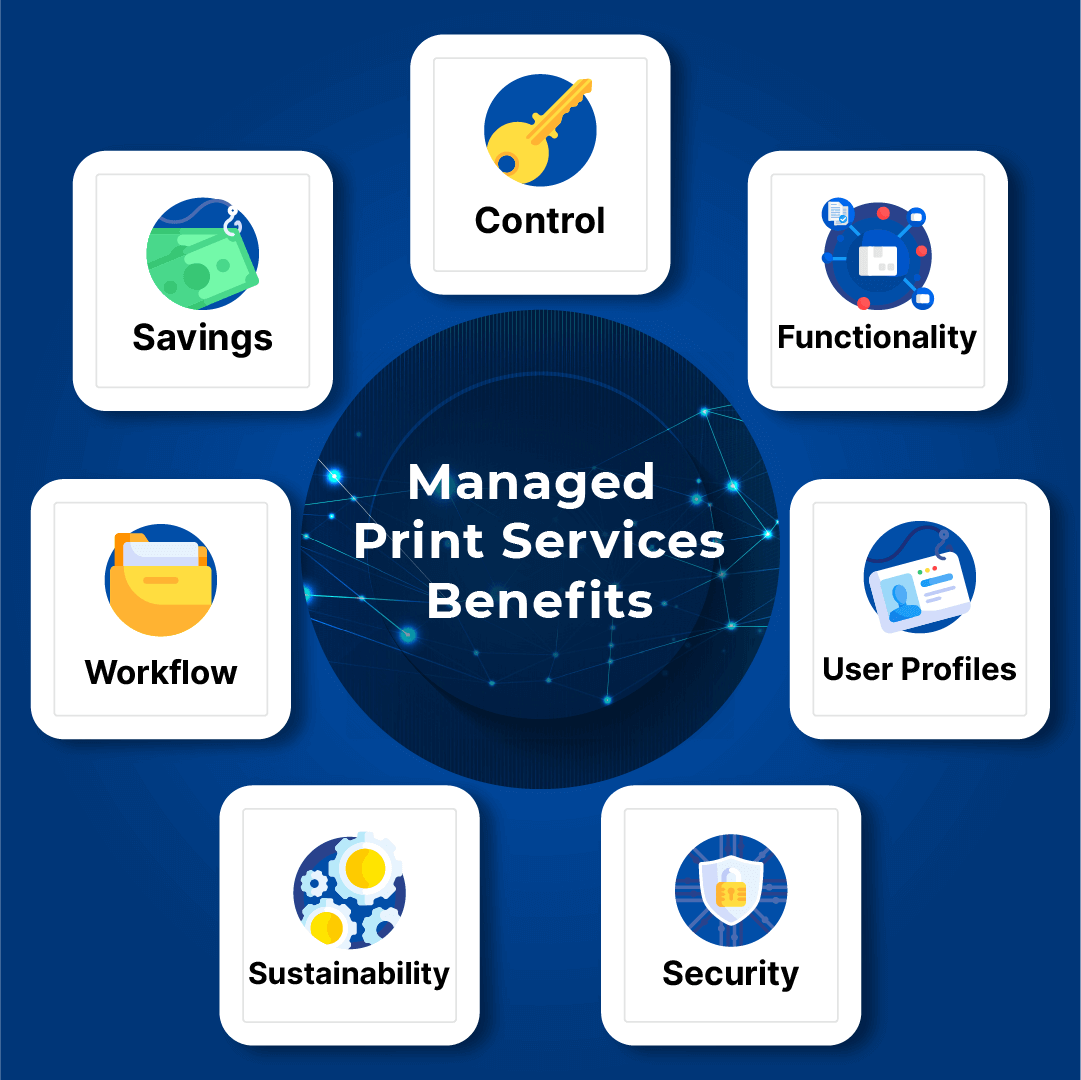 Explore our solution packs
In order to meet any business requirements, we have a large suite of solution packs which can be adapted to each client
UTAX Solution Packs offer easy installation, time and cost savings through professional document management, and reliable security measures for handling sensitive data.
1. UTAX EasyPack
UTAX EasyPack activates print jobs only once authorised staff have proved their identity. Moreover, it allows the staff to collect the documents in a digital box and print them all at once.
2. UTAX ProductivityPack
It sends all print jobs to a central spooler. Once the authorised employees have been authenticated, they can print the documents at any printer in the network – even if the system is on another floor, in another building or even in another city.
3. UTAX SecurityPack
All transferred data is encrypted and can only be printed once the authorised person has confirmed their identity at the printing system.
4. UTAX ScanPack
Once scanned, paper documents are converted into Word, Excel or PDF files that can be easily edited.
UTAX App Packs offer reduced costs, increased document security and customer satisfaction.
1. Cloud Connect
Access files from anywhere. Retrieve and print of your stored files from any UTAX printer.
2. Air Printer
An iOS-based application, enabling digital content to be printed on its own network wirelessly.
3. UTAX Print App
App for wireless connection of mobile devices with compatible UTAX printers and multifunctional systems.
4. Colour Control
Restrict the colour functionality of UTAX printers.
Increase productivity by connecting your printers and devices to popular cloud services and share important information instantly.
How it works:
1. Connect your devices
RICOH Smart Integration is a platform which provides cloud-based apps and document workflow integration across devices. Important information becomes instantly accessible.
2. Integrate your cloud
You don't have to be tied to one machine or network to access the documents you need. Teams can work from anywhere and stay connected, viewing and sharing files from their own devices.
3. Improve your workflows
Work faster and more cost effectively by automating everyday workflows. You might be handling invoices, expenses, or working on documents as a team. Turn one paper file into multiple copies of a shareable, editable, digital document.
Papercut is a powerful print management solution to enable, track, manage, and secure your printing, copying, and scanning.
Benefits:
Easy to use
Total remote control
Eliminate waste
Cut your costs
Secure use
Control expenditure
Cross platform
Mobile printing
Fair licensing model
For schools and teachers
Teachers can streamline the task of printing, grading and analysing multiple-choice tests with the DigiNet Teaching Assistant-Automated Marking Application.
Automated grading improves accuracy with human error virtually eliminated
Provides teachers with at-a-glance feedback on how students performed, with detailed reports including bar graphs, histograms and test statistics
Test results are available in PDF or Excel CSV formats
Our Managed Print Services Process
At DigiNet, by understanding your expectations, we are able to create a Managed Print Services (MPS) solution that best fits your specific needs, regardless of whether you have just a few printers and MFPs or several hundred devices. We offer virtually everything a business needs to attain and manage a cost effective, production environment. We achieve this by carrying out the following steps:-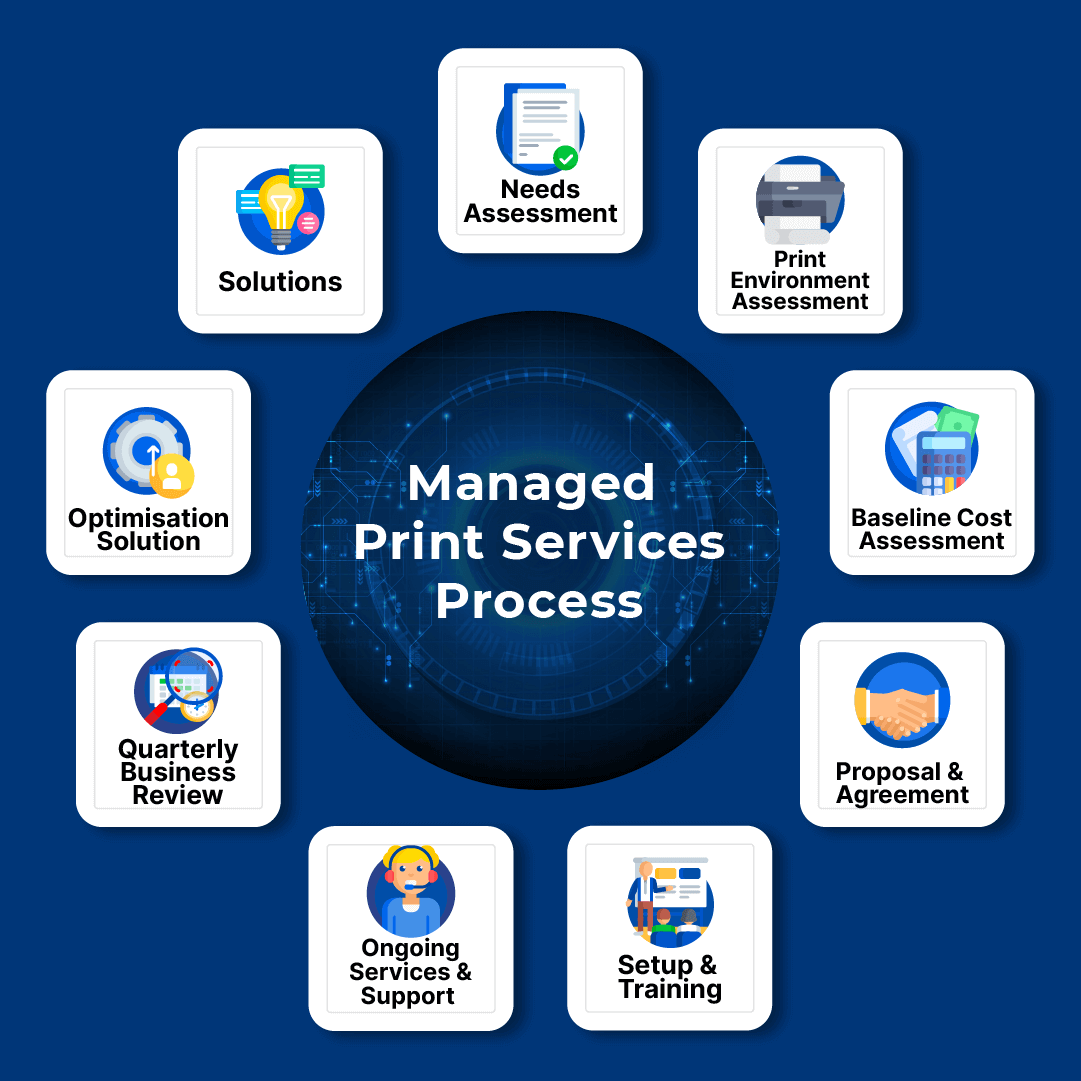 Simplified process for maximized efficiency
Benefit from a customized solution for your print volume.
Secure your cash flow for other investments.
Be fully covered for any maintenance the printer needs.
Frequently asked questions
Our Managed Print Services go beyond traditional printer support maintenance by offering a comprehensive approach to managing your organization's printing needs. Diginet takes care of your entire print environment, including hardware, software, supplies, and workflow optimization. We proactively monitor your printers, provide preventive maintenance, manage supplies, and offer cost-saving strategies. We focus on improving efficiency, reducing costs, and streamlining your printing infrastructure.
The implementation time for our Managed Print Services varies depending on the size and complexity of your organization. Typically, it involves assessing your current print environment, designing a tailored MPS solution, procuring the necessary hardware and software, and deploying the infrastructure. This process can take anywhere from a few weeks to a few months, depending on the scope and readiness of your organization.
The cost structure of our Managed Print Services is usually based on a combination of factors, including:
the number and types of devices
print volume
required services
desired functions of the printers
and specific needs of your organization
It commonly involves a fixed monthly fee that covers device maintenance, supplies, and ongoing support. Additional costs may arise for hardware upgrades, software integration, or specialized requirements.
Yes. We are experienced in working with diverse IT environments and can seamlessly integrate our print management solutions into your systems.
Diginet offers comprehensive ongoing support. This includes remote monitoring of devices to detect and address issues proactively, regular maintenance and servicing of printers, timely supply replenishment, help desk support for troubleshooting, and assistance with print-related queries. The level of support can be tailored based on your organization's specific requirements and our service agreement.
To transition seamlessly to Managed Print Services, our team will evaluate current print environment, assess your needs, and develop a detailed implementation plan. This plan will include strategies for deploying new hardware, integrating software solutions, transferring print settings and configurations, training users, and establishing ongoing support. Diginet will work closely with your organization to ensure a smooth transition without disrupting your daily operations.
Yes, Managed Print Services solutions are designed to be scalable. As your business grows or changes, we can adjust the print infrastructure to accommodate your evolving needs. This may involve adding or upgrading devices, implementing new software solutions, and adapting the service level agreement to meet your changing requirements. We want to provide flexibility and scalability to support your organization's growth.
The frequency of device maintenance performed by our team depends on several factors, such as the device type, usage patterns, and the service agreement in place. We understand that every client has unique requirements, and we adapt our maintenance schedule to meet your specific needs.
Yes, Diginet can assist with print-related training and user support. We can offer training sessions about efficient printing practices, document management, and utilizing the printing tools and software effectively.
Yes, we offer our managed print services throughout Ireland, ensuring reliable and efficient printing solutions for businesses across the country.